Datel's SD Media Launcher
Jump to navigation
Jump to search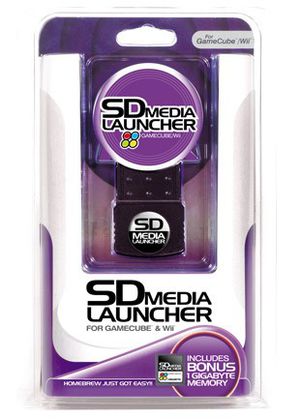 Datel's SD Media launcher was made to run homebrew on unmodified GameCube's in a super easy way!
Packaging
The Package always contains:
SD Media Launcher disc
SD Reader
SD Media Launcher memory card
SD Media Launcher Manual
If you order SD Media Launcher from Datel's website, you can order a SD card less version or a version with a SD card.
Getting started
Put an SD Card (Max 4GB non-SDHC(it can read bigger cards, but SD Media Launcher can't) in the SD Reader and put it in the computer.
Copy for this example swiss on it (if rename swiss.dol autoexec.dol SD Media Launcher will auto execute the program).
Put the SD card in the SD Media Launcher memory card and put it in any memory card slot in the GameCube.
Put SD Media Launcher disc in the GameCube and turn on the GameCube.
In the SD menu you should see a file named swiss.dol in this case.

If you press the B button you should get into the Action replay menu, where you can use the free loader or use the preloaded cheats with games.

Run swiss.dol by pressing the A button.