Swiss/Usage
Jump to navigation
Jump to search
Swiss usage may vary. It can do a lot of things so the aim is to cover the more complex features here.
Booting Swiss
General
Launch the DOL file provided in the download archive. Generally you can use the compressed version, but if this fails, try the uncompressed DOL.
Viper GC Extreme Flash
There's issues when trying to launch the normal builds of Swiss via the Viper GC Extreme flash so please use the special Viper DOL provided.
Installing Swiss to the Wiikey Fusion Flash
Swiss can be installed onto the Wiikey Fusion flash to act as the main boot menu.
Warning
It is recommended to only use this if you're booting GameCube games as the file system Swiss supports is FAT32 (4GB file limit so Wii games won't work). The author holds no responsibility for any bricked Wiikey Fusions (although the recovery disc should be able to fix just about everything!).
Procedure
1. Place the "SwissFlasher.gcm" bootable ISO for your region onto the WBFS formatted SD card using WBFS Manager 4.0. 2. Boot this "Swiss" ISO up on your GameCube. 3. This will boot up a custom version of Swiss and it should present you with a directory as seen in the picture below.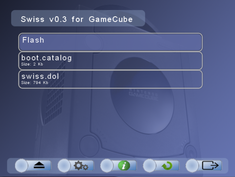 4. Enter the directory and select the FZN file for your region, click on the file and follow the prompts to flash Swiss onto the Wiikey Fusion.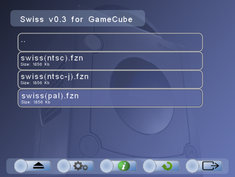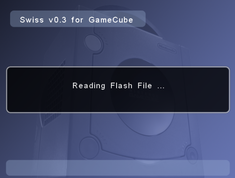 5. Once complete, remember you will need to use a FAT32 formatted SD(HC) card with your wiikey fusion!